Estofex is een collectief van meteorologen en meteorologiestudenten, dat iedere dag een verwachting uitgeeft voor convectief weer in Europa. Hoewel de organisatie niet als oogmerk heeft om te waarschuwen, wordt de verwachting wel beschouwd als zeer uitgebreid en waardevol voor menig onweerverwachting. Hieronder kun je de meest recente verwachting zien die door Estofex is uitgeschreven. De verwachting is in het Engels opgesteld.
» NIEUW? Hier kun je lezen hoe je de Estofex-kaart kunt interpreteren
Actuele verwachting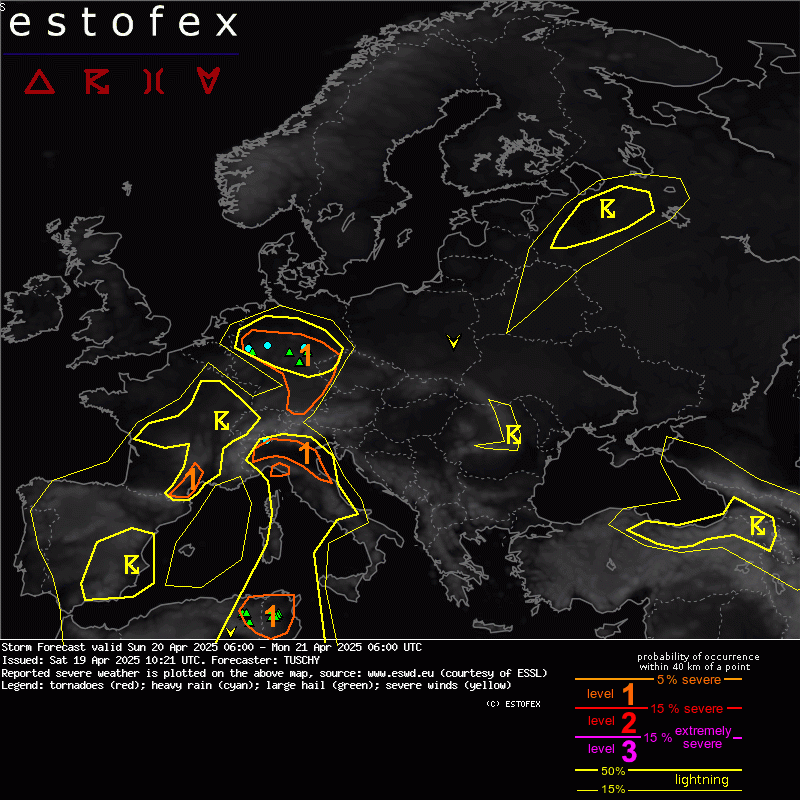 Geschreven door: VAN DER VELDE
Geldig van 22/01/2018 06 uur UTC tot 23/01/2018 06 uur UTC
Nederlandse tijd: +1 uur tijdens wintertijd & +2 uur tijdens zomertijd
Bron: www.estofex.org
A level 1 was issued for southern Turkey mainly for chances of excessive convective rainfall, tornadoes and large hail.

A level 1 was issued for eastern France and Switzerland mainly for chances of severe convective wind gusts.

SYNOPSIS

A northwesterly flow in mid/uppper levels is in place between Scotland and a large trough over Turkey. In this flow a sharp shortwave trough and cold front passes over France, Switzerland and Italy with some potential for convection. The main system is the Turkish/Black Sea low slowly moving eastward, with a cold front advancing along the south coast of Turkey.

DISCUSSION

...S Turkey, Cyprus, W Syria...

Persisting convergence parallel to the coast and lifting of moist air over the higher terrain in coastal areas in the warm sector in 200-500 J/kg MLCAPE will likely trigger storms that leave a few tens of millimeters rain in many locations, in some places more. Storm-relative helicity over 250 m2/s2 supports mesocyclonic updrafts with chances of tornadoes and large hail. In the colder air mass waterspout-type tornadoes can appear.

...E France, Switzerland...

Very slight CAPE signals, mostly elevated parcels, are associated with this marked PV feature overpass. Strong lifting and a clear surface front are present in model output. In case this manages to materialize to convection, a linear system could be the mode, and may produce severe wind gusts.