Estofex is een collectief van meteorologen en meteorologiestudenten, dat iedere dag een verwachting uitgeeft voor convectief weer in Europa. Hoewel de organisatie niet als oogmerk heeft om te waarschuwen, wordt de verwachting wel beschouwd als zeer uitgebreid en waardevol voor menig onweerverwachting. Hieronder kun je de meest recente verwachting zien die door Estofex is uitgeschreven. De verwachting is in het Engels opgesteld.
» NIEUW? Hier kun je lezen hoe je de Estofex-kaart kunt interpreteren
Actuele verwachting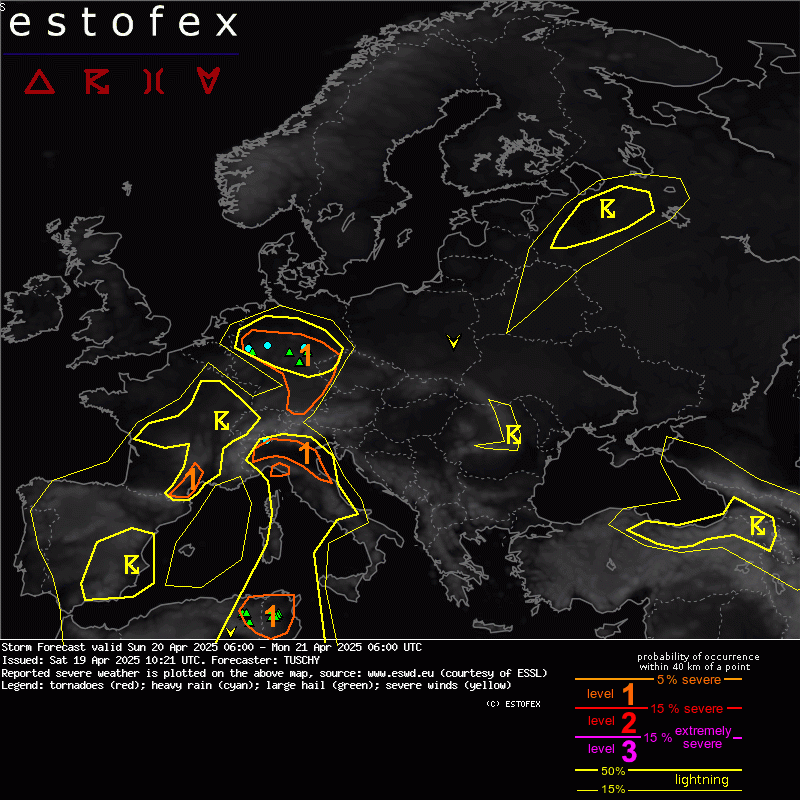 Geschreven door: VAN DER VELDE
Geldig van 23/10/2017 06 uur tot 24/10/2017 06 uur
Bron: www.estofex.org
A level 1 was issued for Adriatic and Aegean Sea coasts mainly for chances of excessive convective precipitation and tornadoes.

SYNOPSIS

Surface high pressure areas are situated over France and Scandinavia. A low pressure system is moving from the Afriatic Sea to the Aegean Sea and is associated with MLCAPE fields up to 700 J/kg. It is distributed in both the warm sector as the cold air mass. The mid level cold front precedes the cold airmass unstable air and PV anomaly by several hundred kilometers. Strong deep layer shear lies mainly between these zones. During the evening/night the cold front becomes more acitve as it reaches the Turkish west coast.

DISCUSSION

There are some zones where 10-20 m/s DLS and 100-200 m2/s2 SREH can overlap with CAPE and triggering conditions, which could allow some supercellular severe weather (hail), although under the axis of maximum shear instability and lift are weak. Higher are the chances for waterspouts over the Adriatic coasts where storm motion will be slow under the upper trough. GFS indicates that the low-level vorticity maximum will touch upon the (south)eastern Italy coastline.
Also, chances for excessive convective rain are somewhat elevated ahead of the PV maximum, where convection may be triggered on the coastline (Albania, Greece). But vertical column water vapour content is not extraordinary. It is higher over the cold front over Turkey at night, where also shear and CAPE allow mesocyclones in storms, enhancing tornado chances along with excessive rain. On the other hand, it does not look like a major event given the lack of strong CAPE and forcing.